FEMALE CARDINAL, NORTHERN CARDINALS, LIFESPAN, SIZE, DIET, FOOD, IMAGES, PHOTO, VIDEOS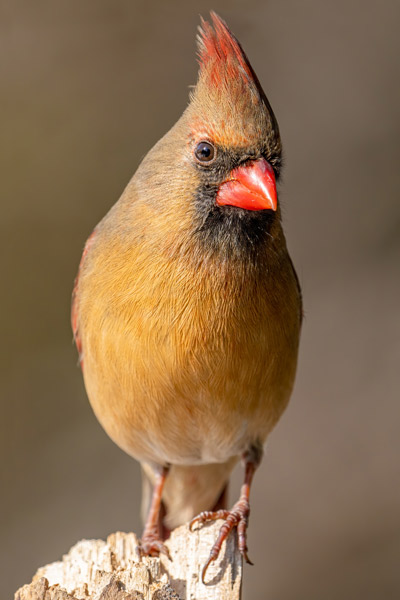 The female cardinal bird, a vibrant and striking species, is often overshadowed by its male counterpart who is known for its bold red plumage. However, the female cardinal is just as important to the species and plays a crucial role in its survival of the species.
FEMALE CARDINAL CHARACTERISTICS
To begin with, the female cardinal has a less striking appearance than the male, with brown and tan feathers, but is equally as vital to the survival of their young.
WHAT FOOD DO FEMALE CARDINALS EAT?
Female cardinals primarily feed on seeds and fruits, including sunflower seeds, safflower seeds, and other types of bird seed. They also eat insects, such as caterpillars and beetles, and occasionally feed on snails and spiders. During the breeding season, they may also feed their nestlings with insects, providing them with the protein they need for growth and development. Additionally, they may consume buds, flowers, and nectar from flowering plants, especially in the spring and summer months.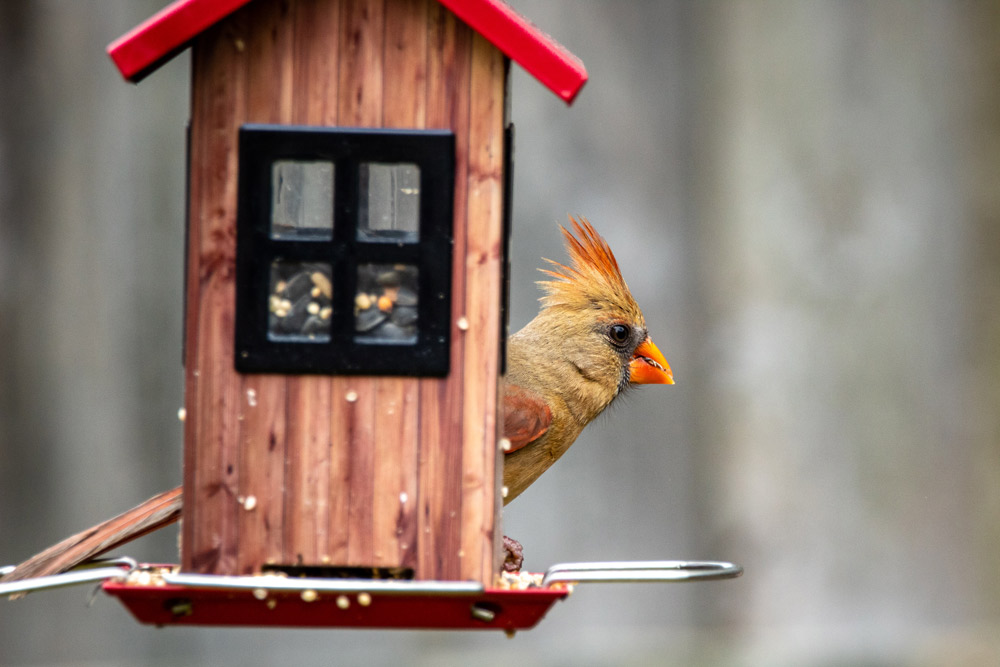 IMPORTANT FOR REPRODUCTION OF CARDINAL
To pursue, female cardinals are responsible for building the nest and incubating the eggs, a task that requires patience and dedication. They will spend several days gathering materials for the nest, and once the eggs are laid, the female will incubate them for approximately two weeks. During this time, the male will bring food to the female, ensuring that she is well-fed and can devote all her energy to keeping the eggs warm.
Once the eggs hatch, the female cardinal will continue to care for the young, feeding them and teaching them how to find food on their own. She is also responsible for keeping the nest clean and protecting the young from predators. This intense period of care and attention lasts for several weeks until the young birds are old enough to leave the nest.
FEMALE CARDINAL HAS A CRUCIAL ROLE
Despite their hard work, female cardinals often go unnoticed. However, their contributions to the survival of the species are crucial and should not be overlooked. The female cardinal's role in nest building and care for the young demonstrates the vital role that female birds play in maintaining the balance of their ecosystem.
In addition to their role in the reproductive process, female cardinals also play a crucial role in the social dynamics of their flock. They often form strong bonds with their mates and will remain with the same partner for several years. During the winter months, female cardinals will join flocks with other birds and can play a role in helping to form bonds within the group. They are known to be less aggressive than their male counterparts and can act as a calming influence in their flock.
WHAT IS THE LIFESPAN OF FEMALE CARDINALS?
The average lifespan of a female cardinal bird is around 2 to 3 years in the wild, although some have been known to live up to 15 years. Factors such as predators, disease, and harsh weather conditions can greatly impact the lifespan of a cardinal.
WHAT IS THE SIZE OF THE NORTHERN CARDINAL BIRD?
The Northern Cardinal (Cardinalis cardinalis) is a medium-sized songbird, with an average length of 21 cm (8.3 inches) and a wingspan of 25-31 cm (9.8-12.2 inches). They weigh between 33-45 g (1.2-1.6 oz). Males are typically slightly larger than females.
WHAT THREATS ARE FACING CARDINAL?
Besides their importance, female cardinals face numerous challenges in the wild. One of the biggest challenges they face is habitat loss. The destruction of natural habitats by human activity can make it difficult for female cardinals to find suitable nesting sites. This can put their eggs and young at risk and can impact the population's overall health.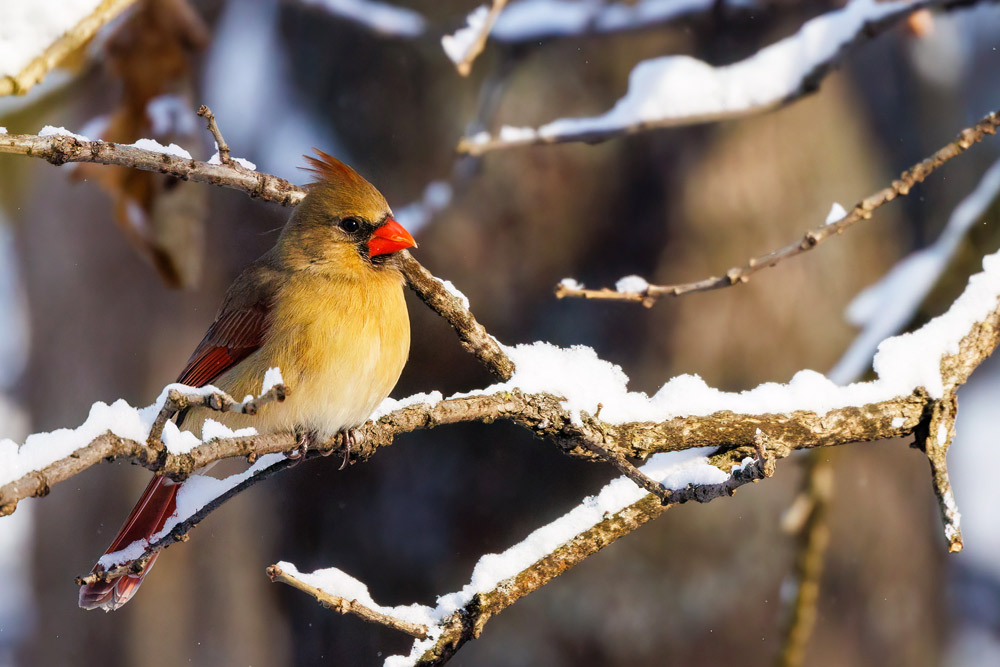 CLIMATE CHANGE
Climate change is another factor that is affecting female cardinals and other bird species. Changes in temperature and rainfall patterns can impact the availability of food and nesting sites, making it more difficult for female cardinals to provide for their young. Additionally, exposure to pesticides and other chemicals can threaten female cardinals and their ability to reproduce successfully.
RESEARCH ON THE FEMALE CARDINAL
Recognizing and appreciating the female cardinal for its important role in the ecosystem is important. By studying and observing these birds, we can learn more about their behavior and the challenges they face in the wild. This knowledge can inform conservation efforts and help protect this species and their habitats for future generations.
In conclusion, the female cardinal bird is a remarkable species that plays a critical role in the survival and sustainability of the species. Despite their less striking appearance, female cardinals are responsible for building the nest, incubating the eggs, caring for the young, and playing a role in the social dynamics of their flock. Despite the challenges they face, including habitat loss, climate change, and exposure to environmental pollutants, female cardinals continue to demonstrate their resilience and perseverance.
WANT TO LEARN MORE? TAKE A LOOK AT THESE ARTICLES: